Out & About

-

search results

If you're not happy with the results, please do another search
Bursting at the seams with talent, one of my best friends 'Xenis', without doubt one of Cyprus' finest chefs, who passionately conjures up his Cordon Bleu pub grub, using only the freshest and finest ingredients from local suppliers and some grown in Xenis' personal allotments ... and btw Xenis likes to stay one step ahead of the competition ;)
This really is a lovely initiative by local, ex pat and international artists and crafters from all over the world and a lovely way to spend a family day out doing a little shopping and bartering and I really hope you'll go along to give them some support !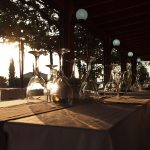 The place looks so welcoming, a spacious alfresco lounge under vines with comfy sofas and just inside on the covered terrace, tables immaculately set, pristine, polished wine glasses of various sizes ready for a fine selection of wines, inside is lounge, bistro style, clean and shiny, a well stocked bar with stools if you only want wine ;) and unusually loos on the same floor, so not walking up and down stairs, very cool ! ... Oh and really good cuisine !!!
A spectacular annual event where you walk along the coastal path between Protaras and Pernera to the light of the full moon, listening to a wide cross section of music by local and international bands set on 18 stages along the way ... truly original and one event that I'll never miss ... just a fantastic idea and completely awesome !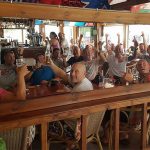 ... we had to go with the times and old TV programs got dropped and we started a little entertainment and the pub matured, signs and blackboards every where and pretty much the same crowd would come in, a mix of young guests and the more mature lot who still remember the show ... and their popularity grew even more when the snack menu changed into a real pub grub menu ...
To some it must have seemed a crazy idea to invite renowned jazz artists from England to a border area of Cyprus and so far up the West Coast, the Paradise Jazz Festival took off immediately and was loved by the audience from the very beginning, first by the British ex pats of the area, and then then by the musicians from Cyprus, Netherlands, Bulgaria, Greece, Israel, oh and then by all island's nationalities, giving it a truly international image!
... let me explain, here the Mexican food isn't hot, it's refreshing, in fact, you can request your selection to your taste, so everyone is happy.  The chef is of course Mexican with over 12 years experience, his specialities are the Burritos, Chimichanga, and an array of Fajitas ... but the menu is huge so you'll find it hard to choose, all served by the drop dead gorgeous scandi crew ... who'll serenade you on your birthday using the kitchen utensils as instruments ... it's just brilliant !
... Based up on the West Coast, they do play rock but the music mix is much more versatile, everything from Charts, Top 40 and latest releases to Retro and of course all the Classics.  Its 24/7 with top presenters live on weekdays between 7 am and 11 pm, when it switches to non stop music.  Oh, and you don't have to be on the West Coast to listen, I often listen on line and I live on the east coast, it's a really cool station!
Golden cafe, immaculate, hospitable, delicious menu, and without doubt one of the best places to watch the live sports ... any sports ... at the same time ... on 40 screens up to 98" !
my first impressions when I walked through the door, was wow this looks professional, the quality stands out, the rustic, warehouse feel with high ceilings and cool lighting.  A warm welcome from Constantinos,, plenty of room, out front about 250 square metres of Wines & Spirits mixers and soft drinks, out back more than 150 Beers from around the world including Belgium, Germany, Holland, Czech Republic, Spain, Mexico, Japan, Cyprus and of course the UK!