out & about

-

search results

If you're not happy with the results, please do another search
Open 365 days a year, with an extensive selection of Wines, Beers & Spirits at wholesale prices with a walk in Cava, wines chilled to perfection ... and munchies ... what more could you want? A Cash Point, yep they got that too ...
I met up with the awesome Tracy and Trevor Bailey of Sun & Soul Cyprus from the UK last week at the wonderful Sail at Castle on Pafos Harbour, they make an awesome Cappuccino btw, they told me all about their idea and I have to say I can't wait for them to get going full swing coz this is totally my thing !!!
Head Stylist Yolanda studies the fashion world with a passion, looking for the latest designs and as Brouska represent over 20 of the world's leading fashion designers, its almost a full time job, often Visiting Italy, France, Greece and the UK to attend exhibitions and fashion shows.  Together they bring you an impeccable collection of Clothes, Shoes and Unique Accessories.
If you really want to look the part for Halloween Night make sure you give Danielle a call to book your makeup session with her and one thing's for sure, you're gonna look really, really scary!
Bursting at the seams with talent, one of my best friends 'Xenis', without doubt one of Cyprus' finest chefs, who passionately conjures up his Cordon Bleu pub grub, using only the freshest and finest ingredients from local suppliers and some grown in Xenis' personal allotments ... and btw Xenis likes to stay one step ahead of the competition ;)
This really is a lovely initiative by local, ex pat and international artists and crafters from all over the world and a lovely way to spend a family day out doing a little shopping and bartering and I really hope you'll go along to give them some support !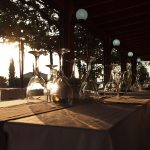 The place looks so welcoming, a spacious alfresco lounge under vines with comfy sofas and just inside on the covered terrace, tables immaculately set, pristine, polished wine glasses of various sizes ready for a fine selection of wines, inside is lounge, bistro style, clean and shiny, a well stocked bar with stools if you only want wine ;) and unusually loos on the same floor, so not walking up and down stairs, very cool ! ... Oh and really good cuisine !!!
A spectacular annual event where you walk along the coastal path between Protaras and Pernera to the light of the full moon, listening to a wide cross section of music by local and international bands set on 18 stages along the way ... truly original and one event that I'll never miss ... just a fantastic idea and completely awesome !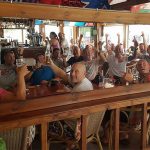 ... we had to go with the times and old TV programs got dropped and we started a little entertainment and the pub matured, signs and blackboards every where and pretty much the same crowd would come in, a mix of young guests and the more mature lot who still remember the show ... and their popularity grew even more when the snack menu changed into a real pub grub menu ...
To some it must have seemed a crazy idea to invite renowned jazz artists from England to a border area of Cyprus and so far up the West Coast, the Paradise Jazz Festival took off immediately and was loved by the audience from the very beginning, first by the British ex pats of the area, and then then by the musicians from Cyprus, Netherlands, Bulgaria, Greece, Israel, oh and then by all island's nationalities, giving it a truly international image!