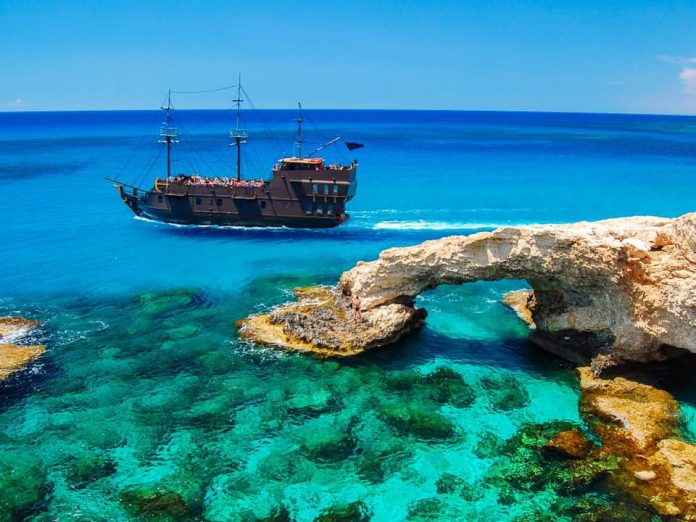 The Black Pearl
This unique boat trip is more like a pantomime on the sea, with audience participation!  It's 4 hours of family fun for kids and grown-ups that will absolutely make your holiday … You can't miss it, as it sits, huge, dark and mysterious, moored on the quay!  and I hear Captain Jack Sparrow is looking for a new crew …
Becoming a Pirate
Setting sail at 10.30 am from Ayia Napa's harbour, The Black Pearl's adventure glides you along the rugged coastline towards Cape Greco.  Hoisting the colours, Captain Jack Sparrow, Sweet Bonnie and all the other gorgeous pirates, will get you in the mood by making your own pirate flags and dressing you up and teaching you some pirates facts and some pirate lingo and one of my favourite bits on the trip, you'll even learn the Pirates Oath … and maybe even a little bit of Zorba The Greek dancing, Pirates Style … oppa oppa, and a bottle of Rum!
Sea Caves
First stop off is the awesome Sea Caves, it's a fantastic backdrop for photos and you can watch all those crazy cliff jumpers … Then it's off to the idyllic Konnos Bay it's even more beautiful looking on shore.
Mermaids Waters
Around Cape Greco, next stop is Serenas Caves aka Mermaids Waters, a beautiful spot with crystal clear sea, so tranquil and serene.  Here you can jump in for a swim or lounge up on the top deck, topping up the tan, with a cocktail or two, or three 😉
Lunch
Lunch is served on the way to Protaras; delicious roast chicken, roast potatoes, rice,
coleslaw and bread 'n butter.  Get in the back of the queue and you might get an extra bit leg of chicken A Vegetarian option is available on request … oh, and btw, snacks are available at the bar if you're still peckish.
Ghostly
Heading up past the Golden Coast, where along 5 mile beach you can see the Ghost City of Famagusta in the distance, and learn a little about it's history.
Swimming @ Blue Lagoon
There's so much happening; then it's off to another swim stop at the stunning Blue Lagoon, with guns and canons firing on land and they'll even dress up the adults, teach them a few pirates songs and give them a shot or two of Yo Ho Ho 😉 … and if they're naughty they might have to walk the plank and btw, I luv all the innuendo … so funny!
Jack Sparrow & The Crew
Don't be surprised if you see Black Beard, Captain Hook and a few other waifs and strays from other pirate stories.  It's all part of a multi award winning adventure along the coast that will stay in your memory for ever, well, someone is bound to get a photo of you along the way so your friends can see what they're missing on facebook, who knows you might even get married on board by Captain Jack Sparrow … brilliant!
Parties & Events
I highly recommend this cruise for all ages and nationalities, with multi-lingual guides on board, btw, It's a favourite for birthday parties and wedding celebrations, stag and hen days oh, and divorces and its ideal for corporate events … I recently joined about 40 friends from Wales who were over for a wedding and what a wonderful day out.  In fact, everytime I go on this boat trip we have so much fun!
Getting There
Pick ups and transfers can be arranged from your local hotel and all credit cards are accepted and of course the cruise may be altered a little depending on weather conditions, otherwise me hearties click on the links below …
Pure Harmony
If you fancy a little something more personal like a Private Charter boat for you and a few friends you must check out a new addition to this excellent companie's flotilla … Harmony Yacht is just the job for a little more privacy.  Sailing two times a week, you can even take your own food and drinks.  Sunset trips depart at around 5 pm and return just after sunset … Check out their Video here …
Open long summer season
April to October
Sailing daily at 10.30 am 'til 2.30 pm 'ish
Directions
You'll find The Black Pearl on the right hand side walkway of Ayia Napa's Harbour.  So, from the traffic lights at the end of Nissi Avenue, head for the sea, and there's plenty of parking at the municipal car parks and then you can't miss it, it's the biggest, darkest, mysterious, boat on the harbour … oh, and before you book you can check out their reviews on Trip Advisor ! … See Google Map below
GPS: 34.981371, 34.002470
Good times are Guaranteed !!!