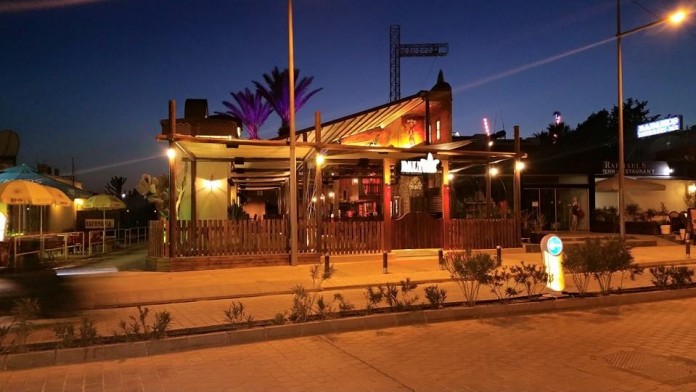 Daltons Tex Mex Restaurant
This Tex Mex Restaurant and Bar starts off brilliant as you walk through under the arch, welcomed by an awesome crew and ends up delightful as you leave.  The decoration is themed to the Wild Wild West … all wooden and ranch style with cacti everywhere, and things like the sheriff's office and the real jail … to lock up your kids while you eat 😉 Inside the gates its al fresco style with a retractable roof so you'll dine under the stars.
In the Bar
On the right is a traditional western style saloon where you can grab some finger food and enjoy arguably the best Margaritas in town mixed with Lynchburg Lemonade for that added zest and just wait til you try my fav blended with Jack Daniels … I have to say they're really moorish so be warned ! Naturally you'll get all your fav cocktails and ice cold Tex Mex beers plus a cool selection of wines and kids cocktails too !!!
Menu
There's so much to choose from, you're bound to find something to tantalize your taste buds be it from Mexico or the American West … hot and spicy or just finger licking good ! Cooked fresh to order, naturally there's Nachos and Fajitas with Pork, Steak, Chicken or Shrimps, plus of course Burritos, Quesadillas, Enchiladas … but just wait til you try the Pepper Fillet Steak, mmm medium rare and the BBQ Spare Ribs covered with their secret recipe barbecue sauce omg ! … or if you're hungry try the massive pork chop, 700gsms flame grilled to perrfection … my fav has to be the Tropical King Prawns served sizzling with Banana, Pineapple, sweet sauce and coconut … delicious !
Kids
The kids will love it here, stepping them back to the wild wild west with hats and holsters and a jail with iron bars to lock up their dad if they don't buy them an ice cream … there's a separate menu for the kids to with fish fingers and home made beef burgers, mini spare ribs and there's a sectioned off play area for the nippers.
I just have to say I love the presentation too … most of the dishes are served sizzling on wooden platters, the decoration is unique and the western story line finishes it off.  The hospitality is excellent, with staff speaking several languages and the whole feel is a relaxed fun filled ambience making it an fantastic choice for a birthday party, wedding or special event and they'll even sit down with you to ask you what you'd like at your party.
Open April 'til November
Lunch and dinner or just drinks and nibbles served from 12 noon 'til 1 am.
You'll find Daltons Tex Mex at 30 Arch Bishop Makarios III which is the main road down towards Ayia Napa Harbour …
An identity built on quality !
More …